So many options
It is hard for card fanatics like myself to limit yourself to one deck. I stay away from cheaper brands and those sold at souvenir shops. They are fine for fun but they lack the quality required for effective sleight of hand.
As I mentioned in my previous article "I am not a collector", I only purchase cards that I will open and use.  If I do buy a deck with the intention of keeping it sealed, it is usually included in a bulk purchase.
Often I'll buy a brick where I'll open some and sell the rest. Due to the limited supply in Australia, I can end up recouping a lot of the initial cost. These days, for me to consider purchasing any single decks to store, the investment would have to be significant.
One of my Favourite Decks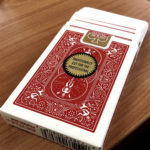 One of my favourite decks of cards (for both performance and practice) are the "Bicycle Gold Standards". They are also known as "Gold Seal". They come in RED and BLUE and I cannot recommend these highly enough.
These were designed in collaboration with the renowned card cheat  Richard Turner and are printed at USPCC.
---
As Advertised:

Each deck of Gold Seal Bicycle Cards is constructed using Bee stock, world renowned for its flexibility, yet long-lasting durability. They are stamped to a caliper/thickness that facilitates classic moves like bottom and center dealing and are embossed to a depth that does not break down the structural integrity of the card, yet still allows each card to breathe properly, thereby reducing the gum-up and hangers often caused by finger moisture. But, most importantly, since these cards were manufactured to Richard Turner's demanding personal specifications, they are Traditionally Cut!

---
For me, these cards bring all of the advantages of my preferred casino style decks to the standard "magic" design of Bicycles. Much of my work is focused on gambling demonstrations and cheating, so I find casino card stock is much better for shuffle and dealing.
They also seem to last a lot longer than standard USPCC decks. I would destroy standard Bicycles in a day or 2 but could use one of these decks for up to a week. When you consider their resilience vs their cost they end up being quite good value.
Buy In Bulk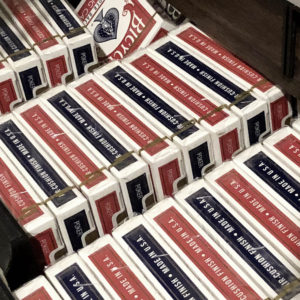 As always, down here in Australia, there isn't a steady supply available in stores. If you want to try these awesome decks, you'll most likely have to get them imported.
eBay is reasonably affordable for 1 or 2 decks but I recommend saving up to buy in bulk and avoid those excessive shipping costs!