I have been a professional musician for decades. A few years of piano lessons early on led me to my love of guitar. I have been practising, playing and performing guitar for as long as I can remember. Recording and writing my own music, playing at pubs, bars and restaurants and always challenging myself with difficult fingerstyle arrangements.
I was always driven by how much there was to learn. Practising was fun and I was lucky enough to be friends (and related to) some fantastic musicians – with whom I often performed in bands.
I have switched channels in the last couple of years. As much as I love music, I am not chasing it any more. I still love writing, playing and performing but I no longer have the drive behind learning it. For me, that void has been filled with cards.
Something that I have become aware of is the amount of "cardicians" that are also musicians. Many played music to begin with. I even know of some who have taken a break from magic to try an instrument. Not all of them were professional in both forums, but there is certainly an undeniable link between the two pursuits.
This connection is represented within a deck of cards called "Sharpers". Drawing on the use of the word "Sharp" to both mean an augmented music note and a card cheat.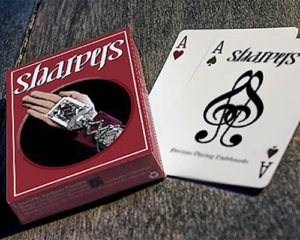 Here what is written about the deck:
Conceived by Gianfranco Preverino, known as the Italian leading expert in gambling, this deck reflects the two passions of its author: card sharping and music. The deck therefore combines both meanings of the word, mixing gambling elements with music, and the dominant theme on the back is the sharp symbol in music.
Find out more information about Sharpers playing cards HERE.
If you would like to learn more about my music, visit ChrisAnnable.Com