"I am not a collector!" … This is what I have to tell myself whenever I browse my usual vendors for playing cards. USPCC standards, ex-casino, cardistry patterns, boutique designs, original artwork, brand names, celebrities, speciality finishes, magic reveals, private reserves, red, blue, black … the list goes on! There are just so many variations out there! Too many!
I used to have a substantial collection of rare, out-of-print, limited release decks that decorated the inside of my cupboards and drawers. It was an investment? No … for me, it was a waste of time, money and space. Especially here in Australia where the shipping cost for decent cards is often higher than the cards themselves! I am not against card collecting by any means – I really enjoyed it. I still think it is worth holding on to one or two valuable gems as trophies. I've just recognised that my personal goal of collecting everything ever made by everyone was a tad futile.
Unfortunately here down under, I don't have the luxury of walking into any shop and purchasing some everyday USPCC "Bicycle" or "Bee" decks so readily available in the northern hemisphere. For me the standard retail cost is well and truly above the currency conversion rate. They are often cheaper online but then we are slugged with  that dreaded shipping cost!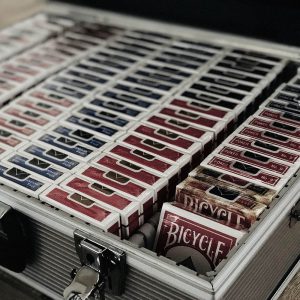 For a steady supply I have found that Cosco (still fairly new and limited in Australia) supply the best value bulk playing cards for general use. Their AU$30 brick of USPCC "Standard" Rider Back cards are more than good enough for magic or gambling demonstrations and are sturdy enough to last a while. $3 per deck is a lot better than the alternatives (so long as you have a $60 annual membership or know someone who does).
Outside of that I have discovered a few online stores offer free shipping when you purchase over a certain amount in one transaction. This is usually expensive, but it is a great way to buy speciality bricks (boxes of 12 decks) in bulk.
Over all, my recommendation is to simply have a decent stockpile on hand of great cards you intend to use. I would rather invest my money and time into my skills – only purchasing items that I intend on opening and using.