Everyday Uses For Magic
Sleight of hand is something that requires a lot of time and practice working on moves that are only really ever used in performance. On this blog I plan to do a series called "EUFM" (Everyday Uses for Magic) that will put those hard earned skills to use in day-to-day settings.
The dexterity and shade awareness achieved while working on magic tricks can not only be practiced everywhere, but can be used to get a slight edge in many other non-magical circumstances.
No Biscuit Tricks
Here in Australia, biscuits are what others might call "cookies". Regardless of there name, its important to note that I am not referring to their use in magic tricks. Although if I were …
This article is aimed at highlighting where knowledge of magic and sleight of hand can give you a huge advantage at home, in the office, or any other biscuit sharing situation.
---
The "Fair Share" palm
The idea behind this sleight is to clearly present to family members or coworkers (or anyone else you might be sharing a plate of communal biscuits with) that you are only taking a single biscuit in assurance that everyone gets their fair share. This is demonstrated in picture 1.
As you can see in picture 2, using your awareness of palming and angles, you can quite easily hold out 2 or 3 more unfair biscuits to enjoy later. I recommend ditching the extra load into a pocket or biscuit sized topit of some kind  to lower your chances of flashing what you're holding out and being outed as a greedy cheat.
---
The Bad Bikky Force
A common tool used in tricks is called "Magicians Choice". This is also known as "equivoque". This specially crafted method of social engineering can also be used to ensure you get the best of 2 available choices. For this example we will use the following 2 biscuits.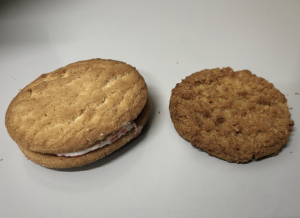 Let's assume you are really in the mood for a cream filled double layer biscuit (pictured left) and have to get someone else to "choose" the other, non-creamy, single layer biscuit (pictured right). You simply ask them the following question:
"I want to eat one of these biscuits, which would you prefer?".
Outcome 1: They respond "The creamy one":
In this instance, you immediately pick up the creamy one, clarifying that the creamy one is the one they preferred you to eat.
Outcome 2: They respond "The non-creamy one":
In this instance, you immediately pick up the creamy one, clarifying that they just said they preferred to eat the non-creamy biscuit.
The quicker you take a bite of your preferred biscuit, the less chance your loaded question will be challenged.
---
The One-Handed Multi-Hold
With all the props and flourishes used in tricks these days, magicians tend to get quite strong and flexible hands. This versatility and dexterity has previously only been used to shift card packets or sleeve coins. Using these same skills on your coffee break brings a whole new angle to the simple acts of lifting and holding.
One simple example is pictured below: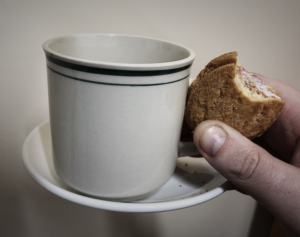 With one hand I am able to hold my biscuit (the creamy one I conned someone out of earlier), my coffee cup and a handy saucer to catch drips and crumbs. I invite all those practicing sleight of hand to hold items in non-standard ways like this – being careful of hot liquids or sharp edges.
This way of holding my cuppa and bikkie may seem a little over the top to some, but with my other hand now free, I am able to lift more delicious items. Theoretically, at any given time, I could have my coffee, saucer and current biscuit in my right hand, while palming multiple future biscuits (or other communal foods of choice) in my left.
---
In conclusion
The goal with this experiment is to utilise sleight of hand in common, non-magical and non-harmful ways. To make use of the unused skills earned by magicians and card sharps. Being creative with every part of your day can only help make you a stronger performer!
If only there were some real magic around that could make the extra weight gained from eating all the additional biscuits disappear!