There are multiple card printing companies in the Northern Hemisphere – all of which produce fine quality decks on top grade stock. Down here in Australia, when it comes to playing cards, we have very few locally made options. Even our souvenir koala and crocodile decks are made in China.
Australian Made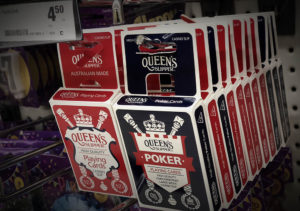 The one brand that stands out in most supermarkets and toy shops is "Queen's Slipper". I am unsure how well known they are up north of the equator, but here in Australia they are one of the most well recognised locally made decks around.
Developed by Tom Johnson, Queen's Slipper have been making cards since 1919. This nearly 100 year old brand of deck can no doubt be found in the cupboards and garages of many Australian houses. I located a few that I picked up prior to becoming a playing card enthusiast and, even though I am not a collector, I always find myself picking up any new designs I come across in stores.
According to their website they provide the facility to produce Custom Playing Cards. They don't have online uploading and building facilities like Make Playing Cards but rather invite you to contact them to discuss producing your design.
High Quality
The printing on the tuckbox claims the cards are "High Quality" and they are indeed well made. The finish is called "Casino Slip" and when handled, the cards have a very glossy and plastic feel to them.
I recently bought a brand new Poker deck and tested it out.  My first impression was that the cards resembled many of the cheaper decks available but, unlike those, Queen's Slipper cards fanned, faro shuffled and dealt quite well. They feel sturdy and will no doubt last a long time in even the greasiest of hands.
Regardless of how these cards stack up in comparison, most Magicians here in Australia still prefer USPCC Bicycles and associated brands. Even though I found the cards very usable over all, I will still be importing my main supply of decks for practise and performance from the USA.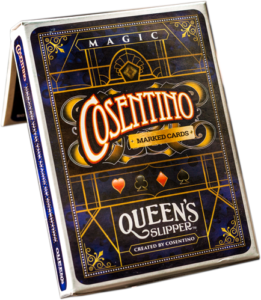 One magician who has put his name behind Queen's Slipper is Cosentino – a previous "Australia's Got Talent" contestant turned prime time performer. Cosentino has produced his own design that includes a secret marking system. The advertising website prompts you to enter a code to uncover the tricks.
More Information
The Queen's Slipper website promotes a "community" you can get involved with. However on the Community Page, there doesn't appear to be any option to subscribe to anything – other than using their standard contact form. I later located a Subscription form on the Game (Play) page here.
So it seems for now, the best way to keep updated about these cards is on their Facebook Page. As of June 2018 they have over 16,000 followers.